Condition-Based Maintenance Model for the Optimization of Smart Manufacturing Processes
C. C. Rusu

"Dunarea de Jos" University of Galati, Faculty of Engineering, Department of Manufacturing Engineering, Romania

https://orcid.org/0000-0002-2626-5512

S. Belaid

Université M'Hamed Bougara de Boumerdes, Faculty of Engineering Sciences, Department of Mechanical Engineering, Algeria

L. R. Mistodie

"Dunarea de Jos" University of Galati, Faculty of Engineering, Department of Manufacturing Engineering, Romania

https://orcid.org/0000-0002-4188-8865

S. Adjerid

Université M'Hamed Bougara de Boumerdes, Faculty of Engineering Sciences, Department of Mechanical Engineering, Algeria
Keywords:
Condition-Based Maintenance (CBM), Condition Monitoring (CM), Additive Manufacturing (AM), Fused Deposition Modelling (FDM), Infrared Thermography (IRT), vibration analysis, sound analysis, Bayesian networks (BNs)
Abstract
The research focused on the elaboration of the Condition-Based Maintenance (CBM) for the optimization of Smart Manufacturing Processes (SMP) using three types of condition monitoring (CM). The paper presents some considerations regarding the Smart Manufacturing Processes (SMP), especially focused on the Additive Manufacturing (AM) process, by Fused Deposition Modelling (FDM) technology and the way in which the CM and mathematical and probabilistic models can be used, for achieving CBM. The experiments focused on testing three different types of CM: vibration (by vibrometers), sound (by sound level meters) and temperature (by thermal camera and infrared thermography). The experiments and results were analysed, data were processed and a probabilistic model was designed, based on statistical methods, using features/key indicators and their thresholds values. Furthermore, a specific model based on Bayesian network was developed, for achieving CBM of the SMP, specifically to the AM/FDM process. This technique and approach can represent a successful integration of a large number of data monitoring sets and complex modelling and analysis capabilities which can lead in the end to an optimisation of the SMP.
Downloads
Download data is not yet available.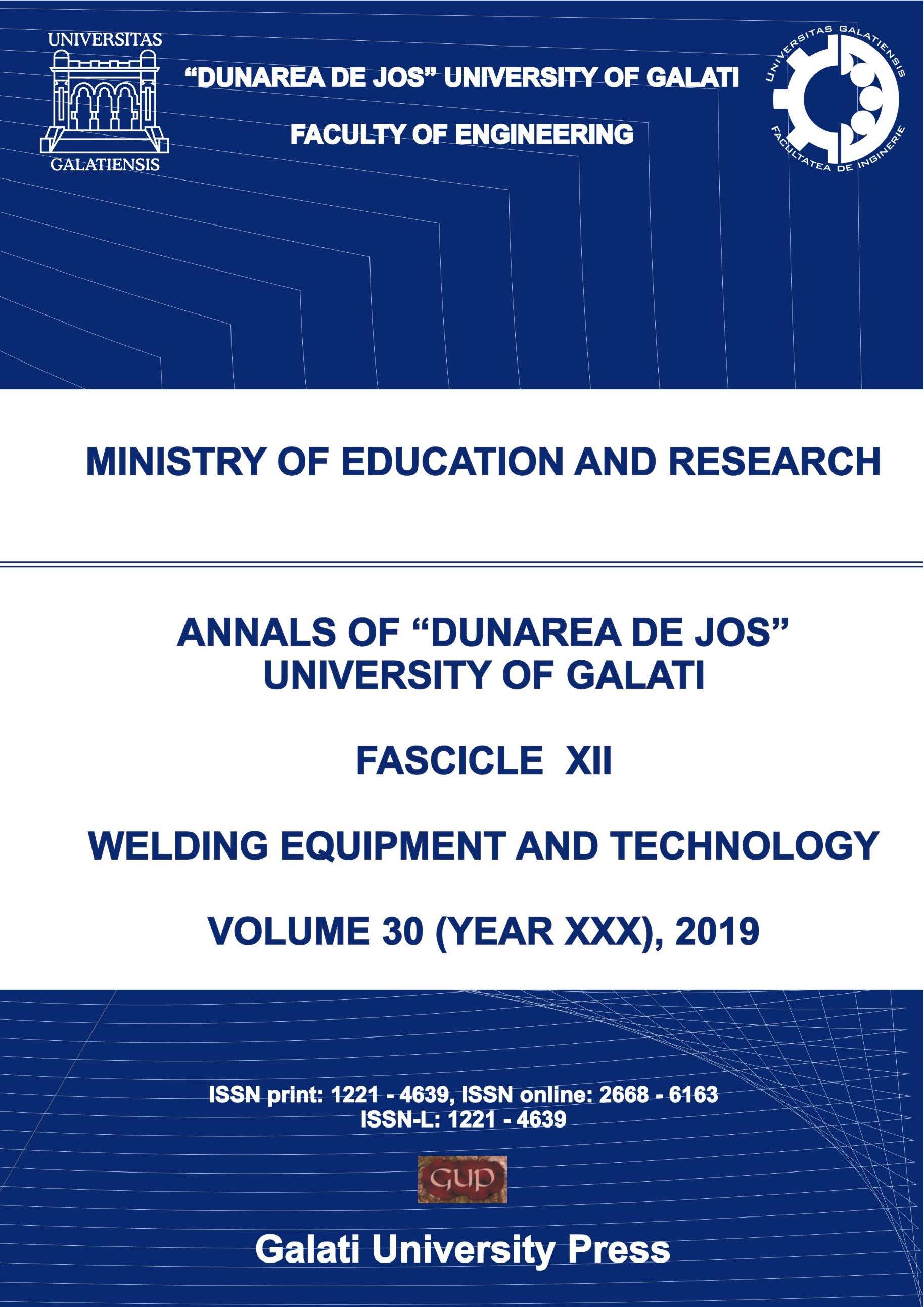 Papers accepted for publication become the copyrighted property of the Annals of "Dunarea de Jos" University of Galati, Fascicle XII, Welding Equipment and Technology. No part of the publication may be reproduced or transmitted in any form, or by any means, electronic or mechanical, including photocopy, recording, or any information storage and retrieval system, except in limited quantities for the non-commercial purposes of scientific or educational advancement, without permission in writing from the Editorial Board.