Effect of Pre-Post TIG Welding Heat Treatment on Cast NI Superalloy
C. Saib

"Mohamed Boudiaf" University of M'sila, Faculty of Technology, Department of Mechanical Engineering, LMMS, Algeria

M. Zaoui

"Mohamed Boudiaf" University of M'sila, Faculty of Technology, Department of Mechanical Engineering, LMMS, Algeria

N. Menasri

"Mohamed Boudiaf" University of M'sila, Faculty of Technology, Department of Mechanical Engineering, LMMS, Algeria

S. Amroune

"Mohamed Boudiaf" University of M'sila, Faculty of Technology, Department of Mechanical Engineering, LMMS, Algeria

H. Ghouss

"Badji Mokhtar" University of Annaba, Department of Mechanical Engineering, LMGMA, Algeria
Keywords:
Ni-base superalloy, Microstructure, Heat treatment, Welding, Precipitation
Abstract
The effect of a pre (before) and post (after) heating welding treatment on the microstructure and mechanical properties of the scrap blades made of cast INC738LC superalloy is the main goal of the present investigation. The filler used in TIG welding was a INC 625 solution hardened superalloy as the proposed solution for hot cracking of the INC738LC cast superalloy in literature. The TIG welding was processed with respect to the constantly optimized parameters (current, voltage, speed, gas flux rate and number of passes) to make a mechanical properties comparison between the as received superalloy and the welded superalloy with heat treated specimens. The characterization techniques employed in this study are hardness measurements, tensile tests, optical microscopy and scanning electron microscopy. We found that the proposed preheating improves the TIG welding of the INC 738 LC superalloy specimens and the post welding heat treatment enhances its mechanical properties.
Downloads
Download data is not yet available.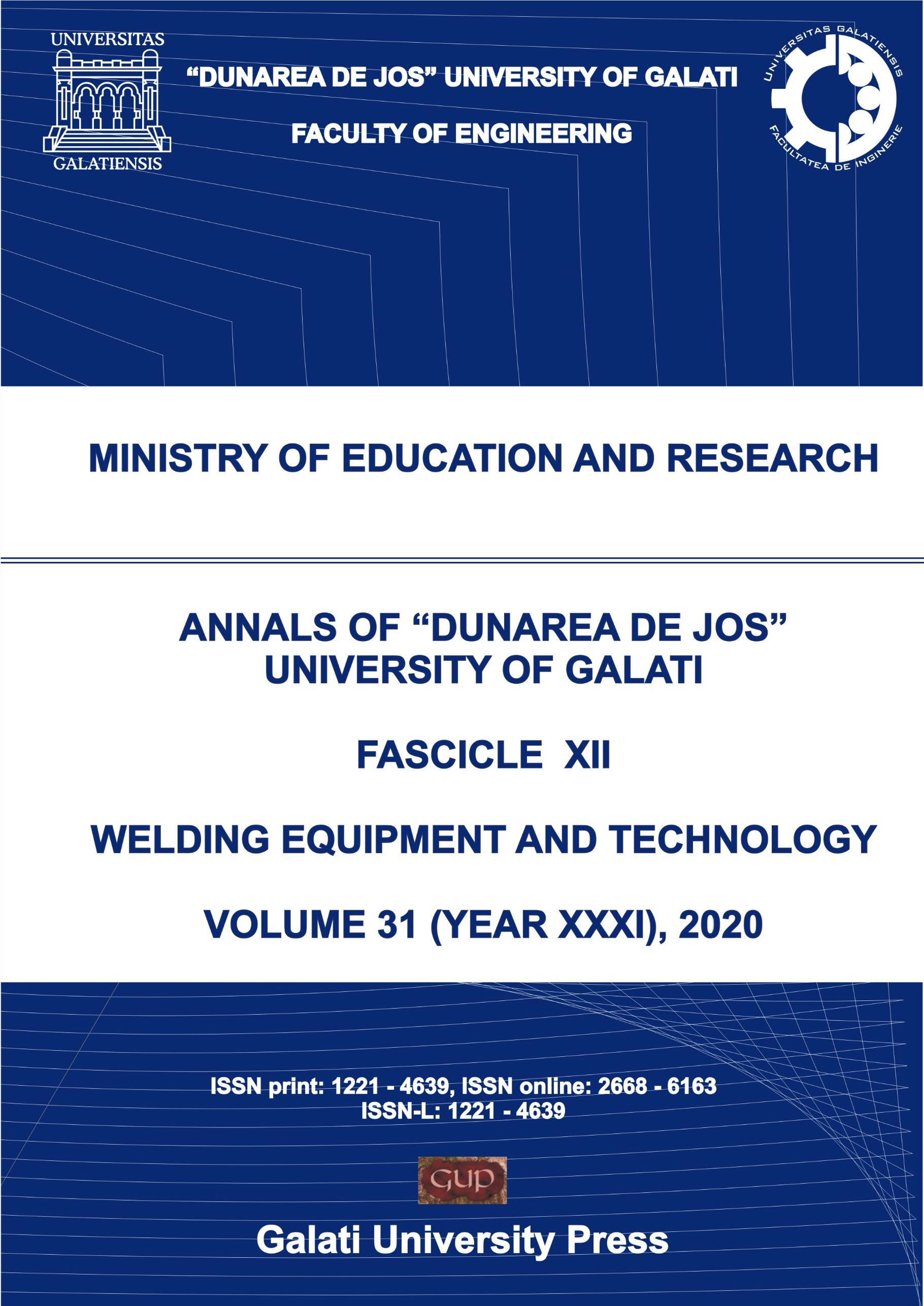 Papers accepted for publication become the copyrighted property of the Annals of "Dunarea de Jos" University of Galati, Fascicle XII, Welding Equipment and Technology. No part of the publication may be reproduced or transmitted in any form, or by any means, electronic or mechanical, including photocopy, recording, or any information storage and retrieval system, except in limited quantities for the non-commercial purposes of scientific or educational advancement, without permission in writing from the Editorial Board.