Process Parameter Influence on Tensile Property of Friction Stir Processed Al/Ni-Fe Composite
L. Magondo

Institute for Nanoengineering Research, Department of Chemical, Metallurgical & Materials Engineering, Tshwane University of Technology, Pretoria, South Africa

M. B. Shongwe

Institute for Nanoengineering Research, Department of Chemical, Metallurgical & Materials Engineering, Tshwane University of Technology, Pretoria, South Africa

R. M. Mahamood

Department of Mechanical Engineering science, University of Johannesburg, Auckland park 2006, South Africa & Department of Materials and Metallurgical Engineering, University of Ilorin, Nigeria

S. A. Akinlabi

Department of Mechanical Engineering, Butterworth Campus, Walter Sisulu University

S. Hassan

Department of Mechanical Engineering, Butterworth Campus, Walter Sisulu University

H. Dong

Materials Innovation Centre, School of Engineering, University of Leicester, United Kingdom

K. F. Carter

Engineering Department University of Leicester, United Kingdom

E. T. Akinlabi

Department of Mechanical Engineering science, University of Johannesburg, Auckland park 2006, South Africa
Keywords:
Advancing speed, Aluminium alloy composite, Friction Stir Processing, Rotational speed, Tensile strength
Abstract
Friction stir processing (FSP) is a solid-state processing technique that has proven to be an efficient surface modification process for producing aluminium matrix composites (AMCs). However, practical challenges still occur during the processing of AMCs even though extensive progress has been made in recent years. In the present study, the influence of FSP process parameters on the tensile property of Al-Ni-Fe composite has been investigated. The process parameters studied were rotational speed and advancing speed. The rotational speed varied between 600 and 1000 rpm while the advancing speed varied between 70 and 210 mm/min. The rotational speed was kept constant at each setting and the advancing speed varied. Other processing parameters were kept constant throughout the experiments. The results were compared with those of the base metal (Al). The results showed that the tensile strength decreased as the advancing speed increased. The highest tensile strength was obtained at a rotational speed of 1000 rpm and an advancing speed of 70 mm/min.
Downloads
Download data is not yet available.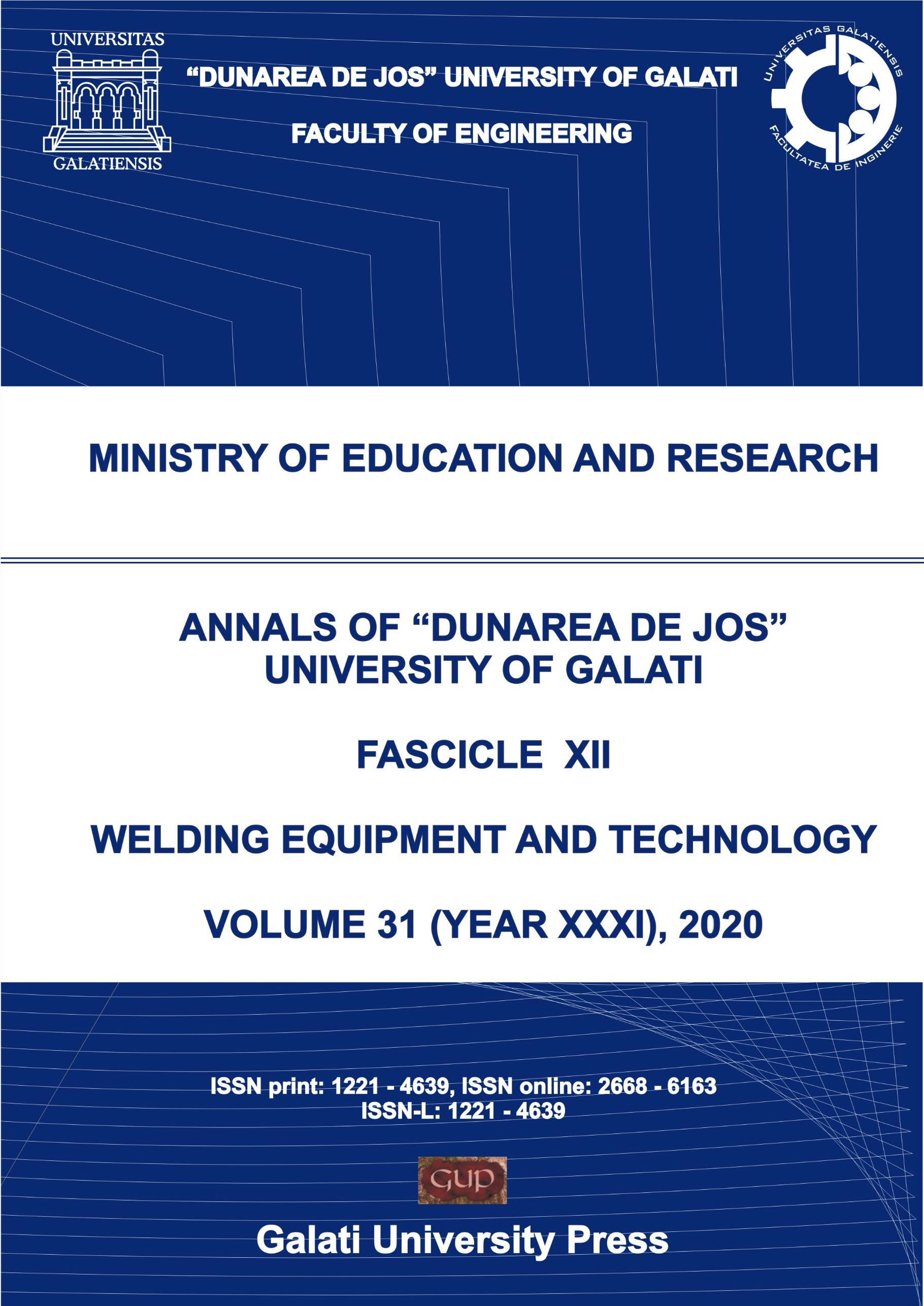 Papers accepted for publication become the copyrighted property of the Annals of "Dunarea de Jos" University of Galati, Fascicle XII, Welding Equipment and Technology. No part of the publication may be reproduced or transmitted in any form, or by any means, electronic or mechanical, including photocopy, recording, or any information storage and retrieval system, except in limited quantities for the non-commercial purposes of scientific or educational advancement, without permission in writing from the Editorial Board.