Molecular identification of yeast isolated from different Kombucha sources
Bogdan Matei

University of Agronomic Sciences and Veterinary Medicine Bucharest, Faculty of Biotechnologies

Camelia Filofteia Diguță

University of Agronomic Sciences and Veterinary Medicine Bucharest, Faculty of Biotechnologies

Ovidiu Popa

University of Agronomic Sciences and Veterinary Medicine Bucharest, Faculty of Biotechnologies

Călina Pătruța Cornea

University of Agronomic Sciences and Veterinary Medicine Bucharest, Faculty of Biotechnologies

Florentina Matei

University of Agronomic Sciences and Veterinary Medicine Bucharest, Faculty of Biotechnologies
Keywords:
Kombucha, yeast, PCR-ITS RFLP, functional food
Abstract
The Kombucha microbial consortium consists mainly of yeast and lactic bacteria which ferment the carbohydrates and release ethanol, respectively lactic acid, as well as of acetic bacteria which lead to the production of different organic acids. The symbiotic consortium of bacteria and yeast (SCOBY) from Kombucha have been used in the past years in the production of functional food, including tri-biotic products made of fermented pollen. The goal of the research it was to characterize, by PCR-ITS RFLP technique, the yeast biodiversity of SCOBY/Kombucha used in the preparation of the new tri-biotic functional product. Nine yeast isolates from Kombucha fermented product made of green tea have been used. Conserved region of yeast have been amplified with universal primers (ITS 1 and ITS4). Different restriction profiles have been obtained after enzymatic digestion with HinfI, HaeIII, HhaI. PCR amplified fragments were of different sizes (450bp, 600bp, 680bp and 800bp). After the use of restriction enzymes four different ITS-RFLP patterns have been obtained and compared to reported results. The high level identity (99%) confirm that the isolates type I belong to Dekkera bruxellensis species. The future investigations will be to assess the potential probiotic properties of yeast isolates.
Downloads
Download data is not yet available.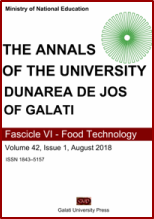 How to Cite
Matei, Bogdan, Camelia Filofteia Diguță, Ovidiu Popa, Călina Pătruța Cornea, and Florentina Matei. 2018. "Molecular Identification of Yeast Isolated from Different Kombucha Sources". The Annals of the University Dunarea De Jos of Galati. Fascicle VI - Food Technology 42 (1), 17-25. https://www.gup.ugal.ro/ugaljournals/index.php/food/article/view/1166.
Section
ORIGINAL ARTICLES