Research regarding the phenolic maturity of the red wine varieties in the Dealu Bujorului vineyard
Florin Dumitru Bora

Department of Physico-Chemistry and Biochemistry, Târgu Bujor

Aurel Ciubucă

Department of Physico-Chemistry and Biochemistry, no, 65, Street Eremia Grigorescu, Târgu Bujor

Viorica Enache

Department of Physico-Chemistry and Biochemistry, Târgu Bujor

Elena Postolache

Department of Physico-Chemistry and Biochemistry, Târgu Bujor
Keywords:
glories, grapes, phenolic maturity, technological maturity
Abstract
The aim of this research was to determine ecoclimatic conditions and also to determine the phenolic maturity of Fetească neagră and Merlot from Dealu Bujorului vineyard in the conditions of the 2016 year of culture. Under the ecoclimatic conditions of 2016, the grapes entered in the ripening process prematurely, and full maturity was achieved very early. The results showed the suitability of ecoclimatic conditions and the proper growth and development of the tested varieties for obtaining wines with superior's quality. The variation of the phenolic characteristic represents a strong marker for wines geographical traceability.
Downloads
Download data is not yet available.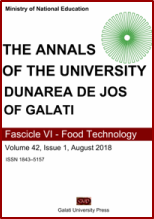 How to Cite
Bora, Florin Dumitru, Aurel Ciubucă, Viorica Enache, and Elena Postolache. 2018. "Research Regarding the Phenolic Maturity of the Red Wine Varieties in the Dealu Bujorului Vineyard". The Annals of the University Dunarea De Jos of Galati. Fascicle VI - Food Technology 42 (1), 77-95. https://www.gup.ugal.ro/ugaljournals/index.php/food/article/view/1190.
Section
ORIGINAL ARTICLES