Food design of dairy desserts with encapsulated cornelian cherry, chokeberry and blackberry juices
Mihaela Ivanova

Department of Technology of Milk and Dairy Products, University of Food Technologies, Plovdiv

Nadezhda Petkova

2Departament of Organic and Inorganic Chemistry, University of Food Technologies, Plovdiv

Tatyana Balabanova

1Department of Technology of Milk and Dairy Products, University of Food Technologies, Plovdiv

Manol Ognyanov

3Institute of Organic Chemistry with Centre of Phytochemistry, Bulgarian Academy of Sciences, Laboratory of Biologically Active Substances, Plovdiv

Radka Vlaseva

1Department of Technology of Milk and Dairy Products, University of Food Technologies, Plovdiv
Keywords:
antioxidant, berries juices, alginate beads, dairy desserts
Abstract
New approach of alginate encapsulation of polyphenolic rich extract from three wild edible forest fruits Cornelian cherry, chokeberry and blackberry was introduced. The aim of the current study was to design new dairy desserts with antioxidant properties by encapsulation and direct incorporation of berries juices The microencapsulation of berries extracts significantly retains (p < 0.05) higher amount of polyphenols and antioxidants in dairy desserts not only at the first day, but also after twenty days storage period. The highest antioxidant activity (523 mM TE/100 g (DPPH method) and 510 mM TE/100 g (FRAP method)) demonstrated dairy dessert with encapsulated blackberry juice followed by chokeberry and Cornelian cherry alginate encapsulated juices. The sensory evaluation of obtained dairy desserts with encapsulated berries juices showed satisfactory and overall higher scores for proposed new desserts compared to the direct incorporated fruits juices. Alginate-based encapsulation of polyphenolic extracts from Cornelian cherry, chokeberry and blackberry were evaluated as proper technique for preservation of natural antioxidants in dairy desserts.
Downloads
Download data is not yet available.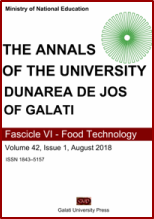 How to Cite
Ivanova, Mihaela, Nadezhda Petkova, Tatyana Balabanova, Manol Ognyanov, and Radka Vlaseva. 2018. "Food Design of Dairy Desserts With Encapsulated Cornelian Cherry, Chokeberry and Blackberry Juices". The Annals of the University Dunarea De Jos of Galati. Fascicle VI - Food Technology 42 (1), 137-46. https://www.gup.ugal.ro/ugaljournals/index.php/food/article/view/1199.
Section
ORIGINAL ARTICLES