Chlorophyll a and total nutrients distribution from surface waters in Romanian MONITOX network in 2019 and 2020
Cosmin Spiridon

Danube Delta National Institute, Tulcea, Romania

Adrian Burada

Danube Delta National Institute, Tulcea, Romania

Liliana Teodorof

Danube Delta National Institute, Tulcea, Romania

Cristina Despina

Danube Delta National Institute, Tulcea, Romania

Daniela Seceleanu- Odor

Danube Delta National Institute, Tulcea, Romania

Marian Tudor

Danube Delta National Institute, Tulcea, Romania

Antoaneta Ene

"Dunarea de Jos" University of Galati
Keywords:
Danube river, chlorophyll a, surface water, nutrients
Abstract
The development of chlorophyll a is dependent on a number of physico-chemical factors with high sensitivity to changes in water properties. Among the factors that influence the development of chlorophyll the most important are pH, temperature, solid suspensions, salinity, light, transparency, hydrology and human activities. The sampling was carried out along the Danube from km 375, until the flow of the three arms into the Black Sea. A number of 25 points were selected along this length, which includes the eastern Pontic sector, the Predobrogean sector and the Deltaic sector. The determinations were performed in June, in the years 2019 and 2020, a period in which the course of the Danube river usually has a tendency to reduce the flow. In the determinations performed along the Danube were identified low values of chlorophyll a varying between 2.77 μg / L and 7.23 μg / L in 2019, and between 1.98 μg / L and 9.91 μg / L in 2020, which correspond to quality class I according to the Order of the Minister of Waters and Environmental Protection 161 / 16.02.2006.
Downloads
Download data is not yet available.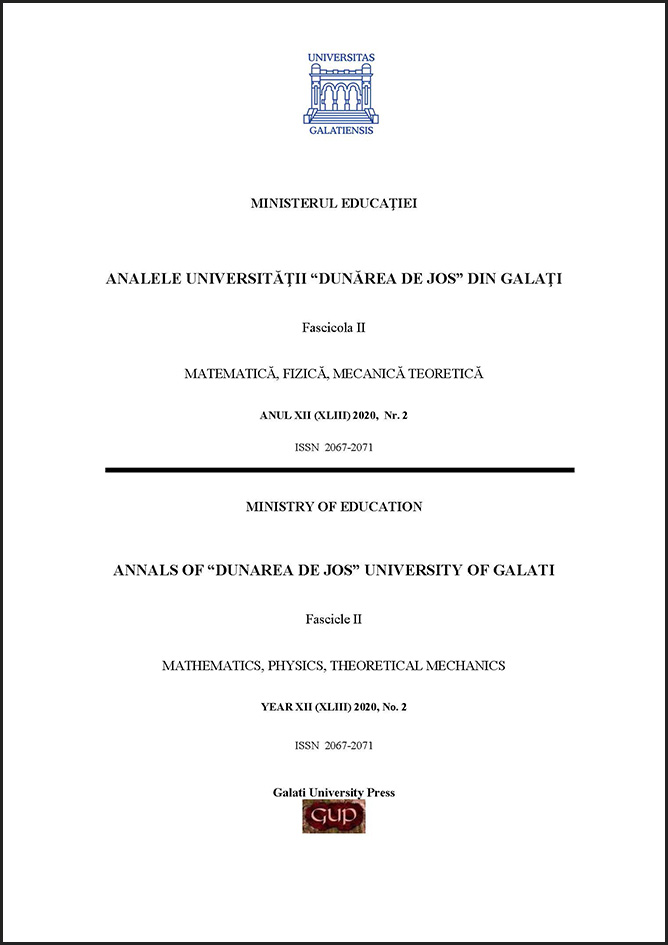 How to Cite
Spiridon, C., Burada, A., Teodorof, L., Despina, C., Seceleanu- Odor, D., Tudor, M. and Ene, A. (2020) "Chlorophyll a and total nutrients distribution from surface waters in Romanian MONITOX network in 2019 and 2020", Analele Universității "Dunărea de Jos" din Galați. Fascicula II, Matematică, fizică, mecanică teoretică / Annals of the "Dunarea de Jos" University of Galati. Fascicle II, Mathematics, Physics, Theoretical Mechanics, 43(2), pp. 184-189. doi: https://doi.org/10.35219/ann-ugal-math-phys-mec.2020.2.17.