Superficial Hardening with Pulse Laser Applied to ASTM A537 HSLA Steel
Nelu CAZACU

"Dunarea de Jos" University of Galati, Romania

Bogdan Silviu VRABIE

"Dunarea de Jos" University of Galati, Romania
Keywords:
pulse laser, YAG:Nd, hardening, surface treatment
Abstract
The surface hardening with YAG:Nd pulse laser is used to obtain a set of surfaces with different properties and it is based on the formation of a very fine martensite.
The paper has been elaborated based on laboratory experiments on samples of A537 (HSLA steel).
Downloads
Download data is not yet available.
References
[1]. De Kock J., Lasers Offer Unique Heat Treating Capabilities, Industrial Heating, Vol. oct., 2001.
[2]. Ursu I., et al., Interacţiunea radiaţiei laser cu materialele. Bucureşti: Editura Academiei, 1986.
[3]. Ganeev R. E., Low power hardening of steels,Journal of Materials Processing Technology, p. 414-419, 2002.
[4]. Cazacu Nelu T., Cercetari privind tehnologia de tratament termic in strat fluidizat pentru semifabricate siderurgice si piese (teza de doctorat), "Dunarea de Jos" University of Galati, 2000.
[5]. Pye David, Diffusion Surface Treatment Techniques. A Review. 2001.
[6]. Samoila C., Ionescu M. S., Drugă L., Tehnologii şi utilaje moderne de încălzire. Bucureşti, Editura Tehnică, 1986.
[7]. Samoilă C., Drugă L., Stan I., Cuptoare şi instalaţii de încălzire. Bucureşti, Editura Didactică şi Pedagogică, 1983.
[8]. Popescu Nae, Gheorghe C., Popescu O., Tratamente termice neconvenționale, București, Editura tehnică, 1986.
[9]. Weber Marvin John., Handbook of Lasers, Lawence Berkeley National Laboratory, University of California, Berkeley, California, CRC Press LLC, 2001.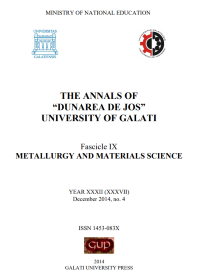 How to Cite
1.
CAZACU N, VRABIE BS. Superficial Hardening with Pulse Laser Applied to ASTM A537 HSLA Steel. The Annals of "Dunarea de Jos" University of Galati. Fascicle IX, Metallurgy and Materials Science [Internet]. 15Dec.2014 [cited 21Sep.2021];37(4):50-5. Available from: https://www.gup.ugal.ro/ugaljournals/index.php/mms/article/view/2227