EVALUATION OF OLIVE OIL AS LUBRICANT WITH THE HELP OF FOUR-BALL TESTER
Liviu Cătălin Şolea

Department of Mechanical Engineering, "Dunarea de Jos" University of Galati

Lorena Deleanu

Department of Mechanical Engineering, "Dunarea de Jos" University of Galati

Constantin Georgescu

Department of Mechanical Engineering, "Dunarea de Jos" University of Galati
Keywords:
lubricant, biodegradable, olive oil, wear, viscosity, shear rate
Abstract
This paper presents a statistical evaluation of the experimental data obtained after a tribological study on extravirgin olive oil, in order to point out the lubricating behavior of this vegetal oil. The resulted mathematical models underlined the influence of the sliding speed and the load on the wear scar and the friction coefficient. Tests were done on a four-ball machine (SR EN ISO 20623:2004). The authors also studied the influence of the
temperature and shear speed on the dynamic viscosity of this olive oil.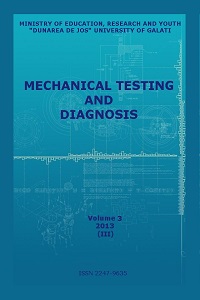 How to Cite
Şolea, L., Deleanu, L., & Georgescu, C. (2013). EVALUATION OF OLIVE OIL AS LUBRICANT WITH THE HELP OF FOUR-BALL TESTER. Mechanical Testing and Diagnosis, 3(3), 40-48. Retrieved from https://www.gup.ugal.ro/ugaljournals/index.php/mtd/article/view/2417
All rights are reserved for this publication, which is copyright according to the Romanian law of copyright. Excepting only any fair dealing for the purpose of the private study, research, review, comment and criticism, no part of this publication may be reproduced, stored in a retrieval system or transmitted in any form or by any means, mechanical, electrical, electronic, optical, photocopying, recording or otherwise, without the prior express permission of the copyright owners.