Surface and elemental analysis of 20th century Romanian coins using SEM-EDX technique
Alina Sion

"Dunarea de Jos" University of Galati, Romania

Alina Cantaragiu

"Dunarea de Jos" University of Galati, Romania

Antoaneta Ene

"Dunarea de Jos" University of Galati, Romania

https://orcid.org/0000-0002-6976-0767
Keywords:
Romanian coins, SEM-EDX, microstructural analyses, composition, numismatics, coinage
Abstract
The cooperation between scientists and numismatics is needed because there is a practical requirement to extract all the information from materials in order to accomplish a complete research. In this paper several Romanian coins from early 20th century are analysed using scanning electron microscopy (SEM) and energy dispersive X-ray spectroscopy (EDX) in order to determine the micro-chemical nature and structure in order to establish the conservation state and manufacturing method. The results indicated that the coins were authentic and for some cases mechanical evidences were presented, suggesting pre-heating before minting. Generally, the metallic samples were relatively well protect against the aggressive external factors but, due to the natural corrosion process, many corrosion products were formed on the metallic surface.
Downloads
Download data is not yet available.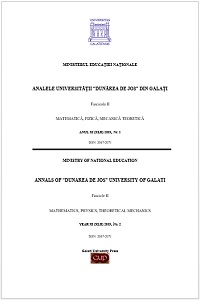 How to Cite
Sion, A., Cantaragiu, A. and Ene, A. (2019) "Surface and elemental analysis of 20th century Romanian coins using SEM-EDX technique", Analele Universității "Dunărea de Jos" din Galați. Fascicula II, Matematică, fizică, mecanică teoretică / Annals of the "Dunarea de Jos" University of Galati. Fascicle II, Mathematics, Physics, Theoretical Mechanics, 42(2), pp. 153-159. doi: https://doi.org/10.35219/ann-ugal-math-phys-mec.2019.2.05.