Non-destructive Testing of Duplex Welding Joints
Roxana-Alexandra GHEȚA

Politehnica University of Bucharest, Romania

Maria-Cristina DIJMĂRESCU

Politehnica University of Bucharest, Romania

Laurenția BICHIR

Politehnica University of Bucharest, Romania

Gabriel Marius DUMITRU

Politehnica University of Bucharest, Romania
Keywords:
non-destructive testing, duplex stainless steel, welding joints
Abstract
This paper presents results of non-destructive examination of welding belt and the heat affected zone. The samples were made using sheets of duplex stainless steel, welded through the method of manual welding with coated electrode, by utilizing 4 types of electrodes. The specimens were subjected to different nondestructive examination methods in order to identify the defects, to establish new efficient procedures and to achieve high productivity in detection of defects appeared.
Downloads
Download data is not yet available.
References
[1]. Paul Kah, Belinga Mvola, Jukka Martikainen, Raimo Suoranta, Real Time Non-Destructive Testing Methods of Welding, Advanced Materials Research, vol. 933, p. 109-116, 2014.
[2]. Bisgrove P., Hayward P., Hirasawa H., Holstein R., Khan A. A., Ooka N., Thiam Siong S., Yzelman W., Guidebook for the Fabrication of Non-Destructive Testing (NDT) Test Specimens, International Atomic Energy Agency (IAEA), Vienna, 2001.
[3]. Oral Büyüköztürk, Mehmet Ali Taşdemir, Nondestructive Testing of Materials and Structures, Springer Science & Business Media, 2012.
[4]. Jing W., Min-Xu L., Lei Z., Wei C., Ningxu L., Li-Hua H., Effect of welding process on the microstructure and properties of dissimilar weld joints between low alloy steel and duplex stainless steel, vol. 19, no. 6, p. 518-524, 2012.
[5]. Mvola B., Kah P., Martikainen J., Dissimilar ferrous metal welding using advanced gas metal arc welding processes, Rev. Adv. Mater. Sci., 38, p. 125-137, 2014.
[6]. ***, EN ISO 5817 - Arc-welded joints in steels – Guidance on quality levels for imperfections. Welding – Fusion welded joints in steel, nickel, titanium and their alloys (beam welding excluded) – Quality levels for imperfections.
[7]. ***, EN ISO 6520-1 - Welding and allied processes – Classification of geometric imperfections in metallic materials – Part 1: Fusion welding.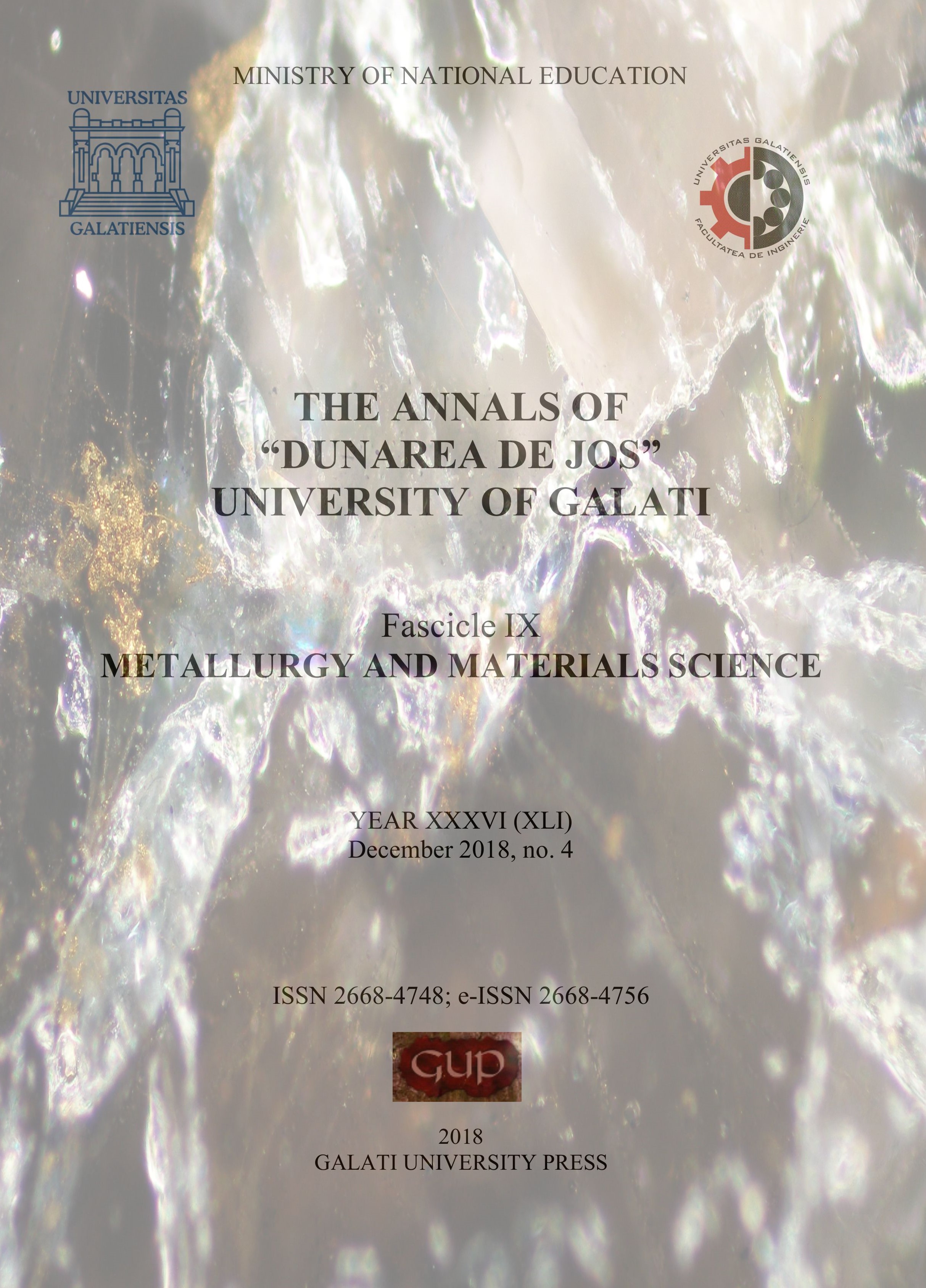 How to Cite
1.
GHEȚA R-A, DIJMĂRESCU M-C, BICHIR L, DUMITRU GM. Non-destructive Testing of Duplex Welding Joints. The Annals of "Dunarea de Jos" University of Galati. Fascicle IX, Metallurgy and Materials Science [Internet]. 15Dec.2018 [cited 26Sep.2021];41(4):49-4. Available from: https://www.gup.ugal.ro/ugaljournals/index.php/mms/article/view/2759