RISK ANALYSIS ON THE HEAT PUMP SYSTEM TO USE FOR BUILDING HEATING, IN URBAN AREA
Cristina Călin

CALORGAL S.A. Galati

Eugen Rusu

"Dunarea de Jos" University of Galati

Ștefan Dragomir

"Dunarea de Jos" University of Galati
Keywords:
heat pump, risk analyze, sustainable development
Abstract
The precautionary principle for each Member State of the European Community is to protect the environment when developing an investment. The European Union has adopted the own strategy for the fight against climate change, through the adoption of a plan for sustainable growth, Europe in 2020, which has established a set of objectives in the field of energy. A solution to produce thermal energy without polluting emission would be to use Earth geothermal energy. It is necessary to implement for heating, a system of heat pumps for individual residential properties or building assemblies from inside the urban areas.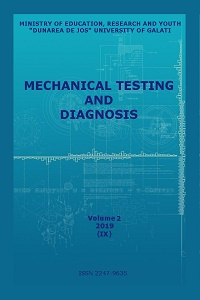 How to Cite
Călin, C., Rusu, E., & Dragomir, Ștefan. (2019). RISK ANALYSIS ON THE HEAT PUMP SYSTEM TO USE FOR BUILDING HEATING, IN URBAN AREA. Mechanical Testing and Diagnosis, 9(2), 5-10. https://doi.org/https://doi.org/10.35219/mtd.2019.2.01
All rights are reserved for this publication, which is copyright according to the Romanian law of copyright. Excepting only any fair dealing for the purpose of the private study, research, review, comment and criticism, no part of this publication may be reproduced, stored in a retrieval system or transmitted in any form or by any means, mechanical, electrical, electronic, optical, photocopying, recording or otherwise, without the prior express permission of the copyright owners.