AN EVALUATION OF THE WIND ENERGY IN THE NORTH SEA COAST
Alexandra Diaconita

"Dunarea de Jos" University of Galati

Florin Onea

"Dunarea de Jos" University of Galati

Eugen Rusu

"Dunarea de Jos" University of Galati
Keywords:
North Sea, wind resources, re-analysis data, offshore turbine, power curve
Abstract
For the present work, 10 offshore wind farms from the North Sea were selected. Here there are a high number of wind farms (41 farms) due to the high capacity of the wind resources that this sea offers. For this study, wind speed data for a period of about 20 years were used, these data were provided by the The European Centre for Medium-Range Weather Forecasts. After data processing, wind power values were obtained in the range of 538...879 W/m2. Considering the characteristics of the turbines that were mounted on the locations of each wind farm, the values for annual electricity production were obtained (for a single wind turbine), this parameter having values between 3974-26130 MWh. The lower value being associated with the oldest eoline farm - Blyth Offshore, this farm will be removed or improved in the near future.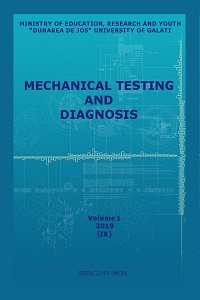 How to Cite
Diaconita, A., Onea, F., & Rusu, E. (2019). AN EVALUATION OF THE WIND ENERGY IN THE NORTH SEA COAST. Mechanical Testing and Diagnosis, 9(1), 17-22. https://doi.org/https://doi.org/10.35219/mtd.2019.1.02
All rights are reserved for this publication, which is copyright according to the Romanian law of copyright. Excepting only any fair dealing for the purpose of the private study, research, review, comment and criticism, no part of this publication may be reproduced, stored in a retrieval system or transmitted in any form or by any means, mechanical, electrical, electronic, optical, photocopying, recording or otherwise, without the prior express permission of the copyright owners.