ASSESSMENT OF THE ENERGY POTENTIAL OF THE WAVES IN THE BLACK SEA
Carmen Gasparotti

"Dunarea de Jos" University of Galati

Eugen Rusu

"Dunarea de Jos" University of Galati
Keywords:
ERA-Interim, WECs performance, capture width, capacity factor, wave parameters
Abstract
The present work aims to evaluate the energy potential of the waves from the Black Sea offshore area, taking into account eight reference points along the sea perimeter, and at the same time evaluating the performance of five wave energy converters (WECs) in these points. The study has shown that the most promising areas are those located in the west and south of the sea, where the wave parameters are the highest, and among the WECs analyzed the best in these areas have proved to be Wave Dragon and Oceantec.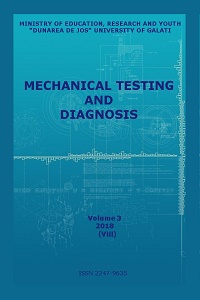 How to Cite
Gasparotti, C., & Rusu, E. (2018). ASSESSMENT OF THE ENERGY POTENTIAL OF THE WAVES IN THE BLACK SEA. Mechanical Testing and Diagnosis, 8(3), 5-10. https://doi.org/https://doi.org/10.35219/mtd.2018.3.01
All rights are reserved for this publication, which is copyright according to the Romanian law of copyright. Excepting only any fair dealing for the purpose of the private study, research, review, comment and criticism, no part of this publication may be reproduced, stored in a retrieval system or transmitted in any form or by any means, mechanical, electrical, electronic, optical, photocopying, recording or otherwise, without the prior express permission of the copyright owners.