ANALYSIS OF THE BEHAVIOR OF CIVIL CONSTRUCTIONS UNDER SEISMIC ACTION
Alexandru Banescu

"Dunarea de Jos" University of Galati

Lucian Puiu Georgescu

"Dunarea de Jos" University of Galati

Catalina Iticescu

"Dunarea de Jos" University of Galati

Eugen Rusu

"Dunarea de Jos" University of Galati
Keywords:
constructions, seismic action, displacement, loading
Abstract
This paper presents several seismic simulations for different types of structures located in different seismic zones in Romania. These simulations are very important because the designers can see in real time, which is the behavior of a designed construction, what are the movements (displacement and deformations) and the extent to which these movements may occur. The behavior of constructions under the action of horizontal seismic forces is analyzed in an automatic computing program for structures program that models the designed structure introduced into a spatial framework x, y, and z. The obtained results are given in displacement diagrams, thus presenting a global situation of the analyzed structure.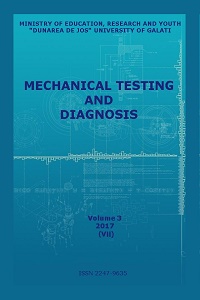 How to Cite
Banescu, A., Georgescu, L., Iticescu, C., & Rusu, E. (2017). ANALYSIS OF THE BEHAVIOR OF CIVIL CONSTRUCTIONS UNDER SEISMIC ACTION. Mechanical Testing and Diagnosis, 7(3), 5-13. Retrieved from https://www.gup.ugal.ro/ugaljournals/index.php/mtd/article/view/2215
All rights are reserved for this publication, which is copyright according to the Romanian law of copyright. Excepting only any fair dealing for the purpose of the private study, research, review, comment and criticism, no part of this publication may be reproduced, stored in a retrieval system or transmitted in any form or by any means, mechanical, electrical, electronic, optical, photocopying, recording or otherwise, without the prior express permission of the copyright owners.