EFFECTS OF LOW-FREQUENCY NOISE ON CREWS OF RIVER VESSELS ON THE DANUBE
Laurentiu Picu

"Dunarea de Jos" University of Galati

Eugen Rusu

"Dunarea de Jos" University of Galati
Keywords:
noise, low-frequency, sensitivity, crew, Danube
Abstract
This paper has analyzed in which way the navigating personnel of some river ships on the Danube react under the action of low frequency noise (LNF) emitted by the equipment on the vessels. The subjects were 11 sailors with extensive experience in sailing on the Danube. After irradiation with LFN in the third octave band 6.3-200 Hz, for 30 min for each subject, with a 10 min break, each subject solved 2 tests (The Stroop Color and Word Test and Comparing of Names Test) and evaluated the degree of discomfort on the Likert scale with 5 items. At the end of the work period, a classification could be made in: person high-sensitive to LFN (subjects 1-6) and person low-sensitive to LFN (subjects 7-11).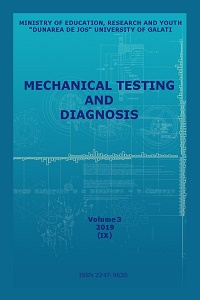 How to Cite
Picu, L., & Rusu, E. (2019). EFFECTS OF LOW-FREQUENCY NOISE ON CREWS OF RIVER VESSELS ON THE DANUBE. Mechanical Testing and Diagnosis, 9(3), 11-17. https://doi.org/https://doi.org/10.35219/mtd.2019.3.02
All rights are reserved for this publication, which is copyright according to the Romanian law of copyright. Excepting only any fair dealing for the purpose of the private study, research, review, comment and criticism, no part of this publication may be reproduced, stored in a retrieval system or transmitted in any form or by any means, mechanical, electrical, electronic, optical, photocopying, recording or otherwise, without the prior express permission of the copyright owners.